Kuwait - Welcome to Kuwait
Kuwait, country of the Arabian Peninsula located in the northwestern corner of the Persian Gulf. A small emirate nestled between Iraq and Saudi Arabia, Kuwait is situated in a section of one of the driest, least-hospitable deserts on Earth. Its shore, however, includes Kuwait Bay, a deep harbour on the Persian Gulf.
A totally unknown country, apart from the fact it was invaded by its neighbour in 1990, Kuwait is a land full of mysteries that few people try or can unveil. It's a place so out of the ordinary, that its native people are a minority. Heirs to one of the world's most ancient civilization, today with a strong and conservative Muslim tradition, very rich due to the discovery of the black gold in the 20th century.
Although the population was severely scarred by Iraq's invasion twenty something years ago, today there are no signs of it. What you will see is a very prosper country, with high-rises, wide avenues packed with sports cars, Kuwaitis living a reality others would only dream of, and no tourists.
Kuwait City has beautiful greenish-blue beaches that are far from its counterparts in Ipanema or Santa Monica. They're very quiet, only with one or another Kuwaiti swimming or driving a jet-ski. The city has a few interesting attractions, like the National Museum and the souk (Arab market), where you can sit and watch people haggling. The city also has its fair share of shopping malls, very common in the Arabian Gulf, due to the intense heat outdoors.
History of Kuwait
Early settlers
The origin of the city of Kuwait—and of the State of Kuwait—is usually placed at about the beginning of the 18th century, when the Banū (Banī) ʿUtūb, a group of families of the ʿAnizah tribe in the interior of the Arabian Peninsula, migrated to the area that is now Kuwait. The foundation of the autonomous sheikhdom of Kuwait dates from 1756, when the settlers decided to appoint a sheikh from the Ṣabāḥ family (Āl Ṣabāḥ). During the 19th century, Kuwait developed as a thriving independent trading community. Toward the end of the century, one ruler, ʿAbd Allāh II (reigned 1866–92), began to move Kuwait closer to the Ottoman Empire, although he never placed his country under Ottoman rule. That trend was reversed with the accession of Mubārak the Great, who came to power by assassinating his brother ʿAbd Allāh—an act of uncustomary political violence in Kuwait. Ottoman threats to annex Kuwait prompted Mubārak to cultivate a close relationship with Britain. An 1899 treaty basically granted Britain control of Kuwait's foreign affairs. Following the outbreak of World War I (1914–18), Kuwait became a British protectorate.
At the 1922 Conference of Al-ʿUqayr, Britain negotiated the Kuwait-Saudi border, with substantial territorial loss to Kuwait. A memorandum in 1923 set out the border with Iraq on the basis of an unratified 1913 convention.
The first Iraqi claim to Kuwait surfaced in 1938—the year oil was discovered in the emirate. Although neither Iraq nor the Ottoman Empire had ever actually ruled Kuwait, Iraq asserted a vague historical title. That year it also offered some rhetorical support to a merchant uprising against the emir. Following the failure of the uprising, called the Majlis Movement, Iraq continued to put forth a claim to at least part of Kuwait, notably the strategic islands of Būbiyān and Al-Warbah.
On June 19, 1961, Britain recognized Kuwait's independence. Six days later, however, Iraq renewed its claim, which was now rebuffed first by British and then by Arab League forces. It was not until October 1963 that a new Iraqi regime formally recognized both Kuwait's independence and, subsequently, its borders, while continuing to press for access to the islands.
Iran-Iraq War
The Iran-Iraq War of 1980–88 represented a serious threat to Kuwait's security. Kuwait, fearing Iranian hegemony in the region, saw no alternative to providing Iraq with substantial financial support and serving as a vital conduit for military supplies. Iran attacked a Kuwaiti refinery complex in 1981, which inspired subsequent acts of sabotage in 1983 and 1986. In 1985 a member of the underground pro-Iranian Iraqi radical group al-Daʿwah attempted to assassinate the Kuwaiti ruler, Sheikh Jaber al-Ahmad al-Jaber al-Sabah.
In September 1986 Iran began to concentrate its attacks on gulf shipping, largely on Kuwaiti tankers. This led Kuwait to invite both the Soviet Union (with which it had established diplomatic relations in 1963) and the United States to provide protection for its tankers in early 1987. The effect of the war was to promote closer relations with Kuwait's conservative gulf Arab neighbours (Saudi Arabia, Bahrain, Qatar, the United Arab Emirates, and Oman), with whom Kuwait had formed the Gulf Cooperation Council (GCC) in 1981 in order to develop closer cooperation on economic and security issues. With the end of the Iran-Iraq War in 1988, Iraqi-Kuwaiti relations began to deteriorate. On August 2, 1990, Iraq unexpectedly invaded and conquered the country, precipitating the Persian Gulf War.
Although Iraq advanced several arguments in support of its actions, the basic reasons behind the invasion of Kuwait were the perennial ones that had led earlier Iraqi regimes to seek the same result: control of Kuwait's oil and wealth, the military advantage of frontage on the Persian Gulf, Pan-Arabism under Iraqi leadership, and a way to generate popular support in the wake of its defeat in the Iran-Iraq War. On August 8 Iraq announced its annexation of Kuwait, in spite of condemnations from the United Nations, the major world powers, the Arab League, and the European Community (now the European Union). The vehement anti-Iraqi feelings harboured by virtually all Kuwaitis, in conjunction with diplomatic efforts by the Kuwaiti government-in-exile in Saudi Arabia, did not stop Iraq from harshly imposing its rule on Kuwait.
People of Kuwait
Historically, there were several important class divisions in Kuwait. These divisions emerged during the period when the country was a trade entrepôt and were largely economic; thus, as the state became Kuwait's primary employer after oil was discovered in the 1930s and these reserves were commercially developed in subsequent decades, this class structure became less pronounced. The one historically important class that remains politically important is the old merchant oligarchy, the Banū (Banī) ʿUtūb—of which the ruling family is a member.
Ethnic groups
Despite a government policy to reduce the number of foreign workers following the Iraqi invasion in 1990, Kuwaitis remain a minority in their own country. About two-thirds of the population are expatriate workers, formerly from other Arab states but now largely from South and Southeast Asia. These nonnationals do not enjoy citizenship rights, economic or political, which are reserved for Kuwaiti citizens—defined as those able to prove Kuwaiti ancestry prior to 1920. Naturalization is strictly limited. Arabs—either Bedouin, sedentary, or descendants of immigrants from elsewhere in the region—constitute the largest ethnic group, and a small number of ethnic Persians have resided in the country for centuries.
Languages
The native and official language is Arabic, fluency in which is a requirement for naturalization. Kuwaitis speak a dialect of Gulf Arabic, and Modern Standard Arabic is taught in schools. English is the second language taught in public schools. Hindi, Urdu, Persian (Farsi), and other languages also are widely spoken among the foreign population.
Religion
Kuwaiti citizens are almost entirely Muslim, and a law passed in 1981 limits citizenship to Muslims. The majority are Sunni, but about one-third are Shiʿi. Both the Iranian revolution of 1979 and the Kuwaiti government's subsequent discrimination against the Shiʿah fostered a heightened sense of community among the country's Shiʿi population in the 1980s and '90s, and this led to political tension between the two groups.
Cultural Life of Kuwait
Although Kuwait embraces many facets of Western culture, the country remains culturally conservative. Its Arab-Islamic heritage permeates daily life. As in much of the Middle East, the rise of Islamic fundamentalism in the 1970s and '80s was reflected in a general return to traditional customs, as seen in the public dress of women, who began wearing the ḥijāb, or veil, far more than in the past. The right of women to drive automobiles and to work outside the home is generally accepted and has not been a matter of public debate, yet the question of granting women the right to vote has divided Islamists, some of whom seek to enforce even more conservative Islamic standards such as those found in neighbouring Saudi Arabia.
Daily life and social customs
At the heart of traditional Kuwaiti culture is the institution of the diwāniyyah, a regular gathering of men—usually in a tent or a separate room of the main house—which serves as a time to gather, enjoy refreshments, talk, or play games. Kuwaitis observe all major Islamic holidays, including Ramadan and the two ʿīds (festivals), Eid al-Fitr and Eid al-Adha. The country's Independence Day and Liberation Day (from the Iraqi occupation of 1990–91) are important secular holidays.
Fūl, falafel, and hummus are the cornerstones of Kuwaiti cuisine, though Western fast-food restaurants abound in Kuwait city. Fūl is a paste based on fava beans, with garlic and lemon added. Formed from fried balls of chickpeas and spices, falafel is often served in unleavened bread (khubz) with vegetables. Chickpeas are also used to make hummus, a dip for vegetables and bread. The traditional Kuwaiti meal consists of spiced rice topped with meat or fish or shellfish taken from the Persian Gulf.
The arts
Kuwaiti folk arts remain important, and Bedouin crafts are the most prominent. Though few Bedouins now inhabit Kuwait, their art traditions, especially weaving, have been maintained. The intricately woven fabrics are made on a sadu, a Bedouin loom, and are common sights in souks (bazaars). Sadu House, a museum for Bedouin crafts, offers classes on weaving. Also popular are traditional dances, including the ʿarḍah, which features swords and poetry singing. The government supports the preservation of folk arts and funds numerous organizations, as well as several troupes that perform across the country.
Discover Kuwait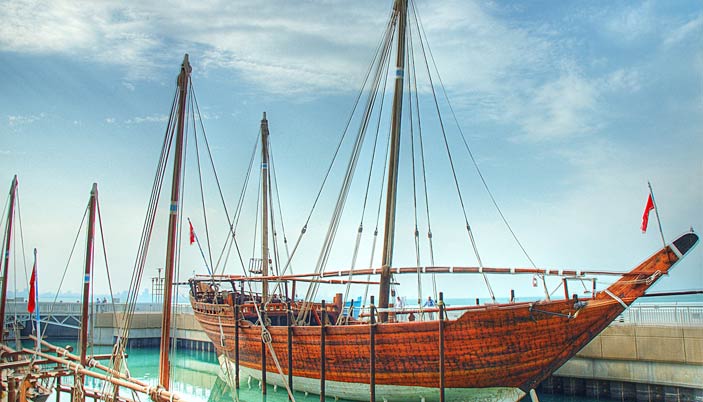 From a nation of pearl divers and spice merchants to one of the worlds' largest oil exporters, Kuwait has undergone many exciting transformations. Kuwaiti society is cosmopolitan and modern and yet it remains true to its heritage and traditions. As a highly urbanized state, Kuwait offers many attractions and services to tourists and visitors. It offers a world class experience in hospitality with its small yet solid hotel Industry.
Kuwait City has numerous attractions which include excellent museums, a corniche ornamented with combed beaches and extravagant restaurants, modern shopping complexes and marinas, long and lazy retreats, and new beach resorts.