Spiritual & Yoga Journeys
Ashrams provide individuals with a space to focus and rest simultaneously. The relaxed vibes of the ashram help people to focus on their inner soul – its care and growth that we forego when we are out their busy living our social lives. These ashrams in India are famous places visited not only by pilgrims but people from all religious sects to gain a sense of spirituality otherwise devoid in urban cities.
One of the most spiritual and transformational experiences you can have in India is to stay at a traditional Indian ashram. To really immerse yourself in Ashram life and become part of ancient spiritual practices and teachings can really enrich the way you look at your spiritual journey and your daily routine.
At an ashram, you have everything covered….your daily schedule, your asana practice, meals, meditation sessions and workshops / discussions. Your experience will often be led by a swami (Indian monk), yogi (experienced practitioner) or knowledgeable teacher.
The first ashrams appeared in India hundreds of years ago. They were founded by ancient Rishi sages around whom their students gathered to form a kind of commune. The main purpose of such communities was to learn the causes of the troubles and sorrows of our world. This state of affairs, with minor modifications, still exists in India today. At the end of the XX century, the ashrams of India became internationally renowned.
Thousands of tourists began to come here, wanting to touch the wisdom of the respected Indian Sadhguru, to learn the mysteries of yoga, and achieve spiritual balance. In addition to spiritual quests, the ashrams attract visitors from an aesthetic point of view. It is definitely worth admiring the beauty of some of them during a trip to India.
Visit these ashrams in India for a life-changing experience.
The birthplace of yoga.
The 'source', as it's often called among yoga communities.
There's nothing quite like a journey to India to deepen your practice and help you get closer to the heart of yoga. Yet when it comes to planning a trip to yoga's motherland, there's a good chance you will feel overwhelmed. We're talking about India, of course; and with such a rich yogic history, this inspiring — if sometimes confronting — country is an easy choice for an authentic yoga retreat. Yoga retreats in India come in all shapes and sizes. From laid back beach vibes to intensive study in a traditional ashram, there's something here to suit everyone.
Yoga and India are almost synonymous with each other. Every year, millions of tourists and travellers looking for some peace and tranquillity come down to not only learn Yoga but also to practice it and take some time off their hectic lives.
What is a Yoga Retreat?
A Yoga retreat is basically a place where guided yoga sessions are conducted by trained professionals. While some of these places offer daily lessons only, there are also others that have holiday packages which include, morning yoga sessions, breakfast and organized activities such as walks or ceremonial gatherings along with vegetarian meals. All in all, Yoga resorts are a great way to put your mind, body, and soul at rest and rejuvenate.
Best Ashrams in India?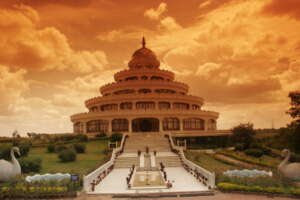 Art of Living Ashram
Founded in 1982 by Sri Sri Ravi Shankar, the Art of Living is renowned world-wide for its stress-elimination and self-development programs based mainly on breathing techniques, meditation and yoga. The Art of Living as a voluntary organization also undertakes various initiatives aimed at uplifting humanity and enhancing the quality of life. The foundation course at the ashram is the three day Art of Living Part I residential workshop. You'll learn revitalizing breathing techniques to restore the natural rhythms of body and mind.
Where: In the Panchagiri hills, 36 kilometers southwest of Bangalore, near Udipalya village.
Courses: Art of Living I & II, yoga, meditation, Vaastu Shastra, Vedic math, and youth training courses.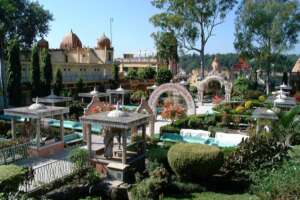 Anandashram and Nityanandasramam
For those who are looking forward to lose oneself in the serenity of nature and meditate in peace to achieve tranquility, these tow ashrams are the right choice.
Anandashram Ashram located near Kanhangad Railway Station was established in year 1939 by Swami Ramadas. The ashram is flanked by a thick cover of groves amid which you will find many fascinating structures. The hill in the east side of the ashram is an ideal place for meditation. The Nityanandasramam is the other popular ashram established by Swami Nityananada. The ashram comprises of a 45 caves crafted out of mountain slope. Near the ashram is also a temple with similar style of architecture as Somanatha Temple in Gujarat. The striking feature of the temple is its stunning idol of Swami Nityananda made out of Panchaloha.
Where: Kasargod, Kerala.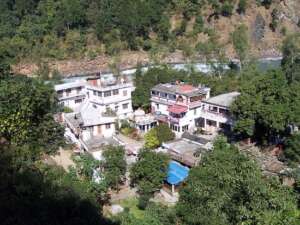 Phool Chatti Ashram
Phool Chatti Ashram is a century-old ashram located on the banks of the holy Ganges and surrounded by the magnificent Himalayan mountain ranges. It is located on the pilgrimage route and offers pilgrims a safe and spiritual environment to stop by. It was founded by Shree Devi Dayal Ji Maharaj, and today, has all the modern amenities to ensure the guests have a comfortable stay and a highly spiritual experience through their programs.
In the late 1800's, Sri Devi Dayal Ji Maharaj founded Phool Chatti Ashram. Since 1977 Phool Chatti has been under the care and guidance of its present Swami Ji, Swami Dev Swarup Nanda. The ashram is famous and unique for its seven-day yoga and meditation program. The teachings are different other institution as it mainly focuses on the yogic path and ashram life. Students experience meditation, breathing (pranayama), chanting, Mauna (silence), Pooja (worship), kirtan (sacred singing), and other        essential aspects.
Where: Rishikesh, Uttarakhand.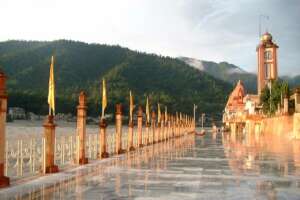 Parmarth Niketan Ashram
Parmarth Niketan Ashram is a spiritual haven and an abode dedicated to the welfare of all living beings. The Ashram is located on the foothills of the Himalayas along the banks of the holy Ganges and provides facilities to help pilgrims attain their spiritual goals by making their journey a memorable one through Yoga, Ayurveda, Universal Prayers, Meditation, Satsang, Kirtans, Ganga Arti, Spiritual/ Cultural programs and lectures, etc.
Where: Rishikesh, Uttarakhand.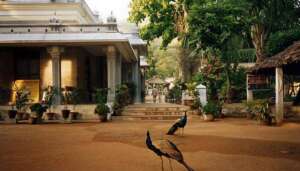 Sri Ramana Maharshi Ashram
The teachings of modern sage Ramana Maharshi are based on a process of self inquiry, which he initiated at the age of 16 in 1886. After realizing that his real nature was "formless, immanent consciousness", he left his family home and traveled to holy Mount Arunachala, where he remained for the rest of his life. The core of his teachings can be found in a booklet called, "Who Am I?" It contains instructions that come from his direct experience of self-realization. Free accommodations and food are provided to devotees who wish to practice his teachings at the ashram.
Where: Tiruvannamalai, 200 kilometers southwest of Chennai, in Tamil Nadu.
Courses: The ashram has a daily schedule of activities including puja (worship), Vedic chanting, and group readings.
Sri Aurobindo Ashram
Founded in 1926 by Sri Aurobindo and a French woman known as The Mother, the Sri Aurobindo Ashram has grown into a diversified community with thousands of members. The ashram sees itself as working towards the creation of a new world, a new humanity. If you're looking for a quiet haven of retreat, this isn't the right ashram for you. It's "a vibrant center of life in a modern urban setting". There's no renunciation of the world there. Everyone spends time each day in one or another of the Ashram's 80 departments.
Where: Pondicherry, 160 kilometers south of Chennai.
Courses: Collective meditations are held, but there are no prescribed practices, rituals, compulsory meditations, or systematic instructions.
Sathya Sai Baba Ashram
The ashram of Sri Sathya Sai Baba is an entire town containing an institute, schools, stadium, library, hotel, shopping centers, and a canteen. The complex's interior is in pastel colors of pink, yellow, and blue and is very beautiful. Sai Baba's spiritual center is known all over the world, and it is often visited by politicians of different countries and famous Hollywood actors.
The ashram has a daily routine that must be followed. Prayers and meditations alternate with lectures on spiritual topics and interviews. It is forbidden to bring anything but a mat and a notebook with a pen into many areas. Movement around the grounds is prohibited between 9:00 PM and 04:00 AM.
Form: A light-colored suit is preferred for men; women will need traditional Indian clothing or a white        skirt, sweater, and scarf to put on their heads. The most common footwear is sandals.
Where: Puttaparthi, Andhra Pradesh.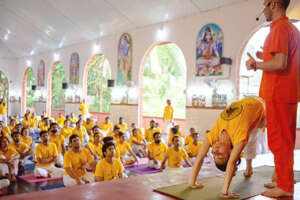 Sivananda Ashram
The Sivananda Ashram is a modern and well-equipped training center. It specializes in the five teachings of yoga — meditation, relaxation, breathing, postures, and proper nutrition. It also offers courses in spiritual sciences, including Vedanta and Hindu philosophy. The ashram was founded by Guru Swami Sivananda and is now considered one of the best in India.
Classes at the school are held daily, except for Sundays. Courses in yoga, meditation, pranayama, and other spiritual sciences are available. It is not possible to stay at the ashram on a pass-through basis — you will need an invitation. You may receive it by writing a detailed letter about yourself and stating the reason for your visit.
Where: Rishikesh, Uttarakhand.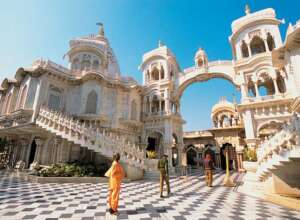 ISKCON
The International Society for Krishna Consciousness (ISKCON) is commonly known as the Hare Krishna movement. It's based on the teachings of Lord Krisha and is a branch of Hinduism known as Gaudiya Vaishnavism, which was started in the 16th century by spiritual leader Chaitanya Mahaprabhu. ISKCON was not founded until much later, by Bhaktivedanta Swami Prabhupada, in 1966. The Bhagavad Gita is one of the main texts used. Devotees practice bhakti yoga, which involves dedicating all thoughts and actions towards pleasing God (Lord Krishna).
Where: There are centers all over India. The world headquarters are in Mayapur, West Bengal. Other popular centers are in Delhi, Mumbai (Maharashtra), Vrindavan (Uttar Pradesh), Bangalore (Karnataka). Do note that although both sexes are welcome, ashram facilities are mostly provided for men, as women are not encouraged to live an ascetic lifestyle in the temples. Guesthouses are available though, for short-        term stays.
Courses: Daily activities include worship, classes on the Bhagavat Gita, celebration of religious festivals and lectures on spiritual topics.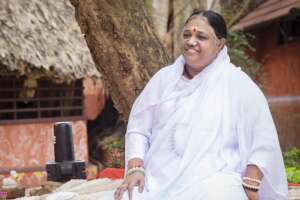 Mata Amritanandamayi Ashram
Fondly known as the "Hugging Mother" or "Amma, the Mother of All", Sri Mata Amritanandamayi Devi envelopes devotees with her love. She focuses her attention on trying to overcome the lack of love and compassion in the world, and devotees are particularly attracted to her for her comforting embraces. Free public darshans (audiences) are held with Amma at around 10 a.m. on Wednesdays, Thursdays, Saturdays and Sundays.
Where: The Amritapuri Ashram is in Kollam, Kerala. 110 kilometers north of Trivandrum.
Courses: Integrated Amrita Meditation Technique (a 20 minute combination of yoga, pranayama, and meditation). Morning and evening mediation, prayers, and service are all part of the ashram life.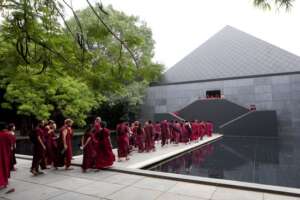 Osho International Meditation Resort
Osho was perhaps India's most controversial spiritual leaders due to his views about sex. The Osho ashram no longer holds workshops calling for undressing, and free love isn't encouraged. Yet, unlike many ashrams, there's no gender segregation anywhere at the Osho ashram. The ashram, which is more like a resort, aims to provide a luxurious environment where people can be at ease with themselves. Despite the compulsory wearing of maroon robes, it's commercial and far removed from Indian culture. Courses are mostly directed at healing from traumatic experiences, rather than personal development.
Where: Pune, Maharashtra (4 hours from Mumbai).
Courses: Active meditations (including jumping and screaming), Tantra workshops, plus a huge range of multi-diversity courses.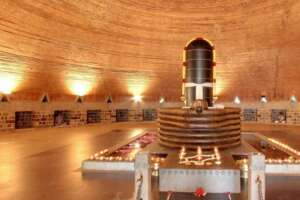 Isha Foundation Ashram
The Isha Foundation is a non-profit organization, founded by Sadhguru Jaggi Vasudev in 1992. Its purpose is to foster people's spiritual and physical wellbeing through yoga and outreach programs, such as environmental rejuvenation. The core of the Foundation's activities is a customized system of yoga called Isha Yoga. The 3-7 day introductory program, known as Inner Engineering, introduces guided meditations and a powerful inner energy process for deep inner transformation.
Where: Isha Yoga Center, at the base of the Velliangiri Mountains in Tamil Nadu.
Courses: Inner Engineering, Hatha yoga, yoga for children, advanced meditation programs, sacred treks, mind and body rejuvenation retreats based on Ayurvedic principles.
Best Yoga Retreats in India
Ananda in the Himalayas: Do Yoga In Himalayan Ambiance
Ananda in Himalayas is a luxury yoga retreat in India located in the Himalayan abode. It is one of the highest ranked spas in the world that boasts of their ancient Yoga techniques and skills. Inspired from the Bihar school of Yoga, the luxury spa provides its visitors with different types of meditation and well-tried 'Shuddi Kriyas' or ancient yogic practices intended with the motive or purifying one's complete body and mind.
Location: The Palace Estate, Narendra Nagar, Uttarakhand 249175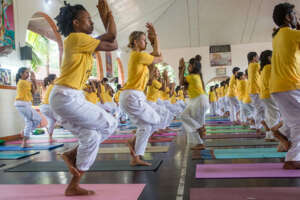 Sivananda Yoga Vedanta Dhanwantari Ashram: For Soul Detoxification
This ashram located in the foothills of Kerala's Western Ghats, is one of the best places for yoga in India. Here you can completely immerse yourself into yogic practices like alcohol-free vegetarian diet and silent mediation etc. You'll be given lectures on yoga and you'll have to participate in karma yoga which involves an hour a day of helping with tasks around the facility.
Location: Sivananda Yoga Vedanta Dhanwantari Ashram PO Neyyar Dam, Trivandrum, Kerala 695 572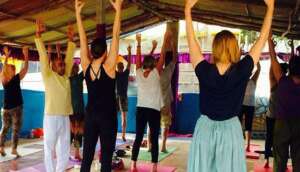 Purnam Meditation Retreat: Enjoy Peace With Adventure
Located in the ECR in the Uthandi region of Chennai, this is a rather recent addition to the list of meditation centers in India. This lavish 5-star accommodation and hospitality is the perfect place to destress and relax your mind through their transforming meditation programmes. Other than allowing you to meditate in peace, this posh villa also acts as a vantage point for you to explore nearby cultural hubs and adventure sports during your visit.
Location: 41-A, Olive Sands Layout Uthandi, Kanathur, SH 49, Chennai, Tamil Nadu 600119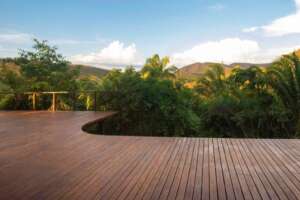 Ashiyana Yoga Retreat: Loosen Up Yourself
Goa may be the last place you can imagine a yoga retreat to be but due to the influx of foreign tourists coming in for yoga holidays in India there are quite a few amazing such places here. Ashiyana Yoga retreat out of them is a notable one with their techniques of detoxing.
Location: Junas Waddo, Mandrem, Goa 403527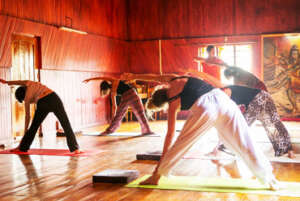 Ayurveda Yoga Meditation Resort: Recharge With Yoga & Meditation
Just like Yoga in India has been practiced since ages, ayurved ais also an ancient science of the country that we take much pride in. At this retreat you can indulge in both the practices amid the lush greens picturesque Nilgril Mountains of Coonoor. Rejuvenate yourself at this happy abode!
Location: Ayurveda Yoga Villa Palvelichem, Bavali PO, Kartikulam, Wayanad district, Kerala, South India, 670646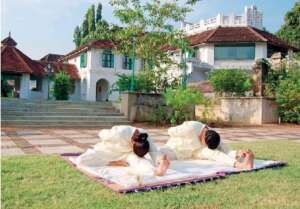 Kalari Kovilakom: Yoga In God's Own Country
People usually have the idea that all the yoga and meditation retreats in India are located in the south and it's not entirely wrong, we could at least say that the best ones are. And Kerala out of them is definitely notable due to its Ayurvedic history. Kalari Kovailakom is an amazing retreat offering numerous yoga courses for you to get close to your inner self.
Location: Letzgo Tourism Services LLP Ground Floor,KMJ Apartments, Panampilly Nagar, Ernakulam, Kochi, Kerala 682036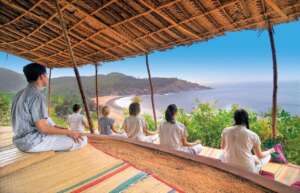 SwaSwara Yoga Resort: Learn All About Yoga
Tucked away in the isolated countryside of India's West coast, SwaSwara is just a short stroll from the sandy shores of Om beach in Gokarna. It is one of the most beautiful yoga retreats in India offering yoga practice, yoga workshops, a full day of yoga Kriyas and a day of antar mouna (inner silenc).
Location: Om Beach, Donibhail, Gokarna, Karnataka 581326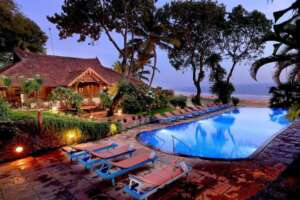 Somatheeram Ayurvedic Health Resort: An Ayurveda And Yoga Haven
A place where you can learn ayurveda along with yoga, Somatheeram Ayurvedic Health Resort is an ultimate hub for yoga learners. The 5 yoga teachers help you gain knowledge and learn significance of yoga and its practices. While you perform yoga asanas in the open air, the lush green surroundings and serene ambiance of the resort will surely calm your senses.
Location: Malabar Beach, Kerala 670007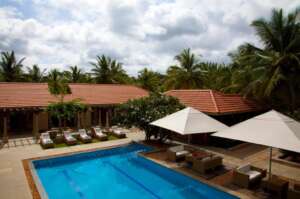 Shreyas Retreat: Lavish Stay With Peaceful Yoga
Shreyas Retreat is an ideal abode where you can enjoy lavish amenities and indulge in rejuvenating yoga sessions. The 12 cottages, comforting facilities, yoga and other soul-relaxing activities offer you a wholesome vacation. The yoga sessions happen twice a day where individuals are taught Ashtanga Yoga as well as Hatha Yoga. While being one of the best retreat centres in India, this place welcome numerous peace-seekers every year.
Location: Santoshima Farm, Gollahalli Gate Nelamangala, Bengaluru, Karnataka 562123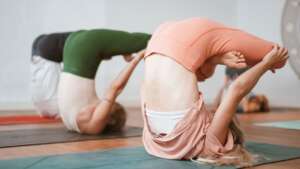 Ashtanga Vinyasa Yoga Centre: Look Into Yoga Deeply
Now are the days when yoga teaching is indeed a profession while more and more people are embracing it. Ashtanga Yoga Mysore offers teacher training courses Ashtanga Vinyasa Yoga and Hatha Yoga. The program allows you to learn physical, theoretical, and spiritual aspects of both the yogas. Moreover, you will also gain knowledge about mind, body, and soul. So, if you also want to be a yoga instructor, you know where to start!
Location: #177, K.C Layout, Opposite Peter's Farm, Near Chamundi Hills road, Mysore – 570011, Karnataka,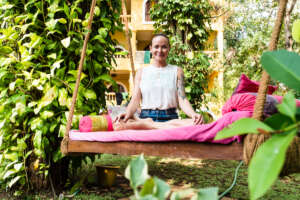 Purple Valley Yoga Retreat: Enjoy Goan Vibes
The list of retreat centres in India is long where Purple Valley Yoga Retreat also holds its significant place. If yoga and meditation are all you are looking for with a tinge of Goan vibes, this is where you need to be. The retreat hosts some of the best yoga programs and other extracurricular activities for all kinds of individuals. You can start your day with a mind-relaxing yoga session and later gorge upon some delicious meals. All in all, a wholesome experience is guaranteed here!
Location: House No. 142, Bairo Alto, Goa 403507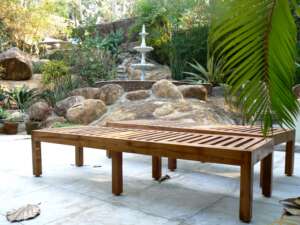 Blue Mango Retreats: Learn The Magic of Yoga
This wonderful retreat is meant for those who are seeking sheer peace while witnessing Himalayan views. Since the land is highly influenced by Buddhist culture, you'll always find immense tranquility here. The spiritual treat is for 6 days and aims at rejuvenating one's mind, body, and soul. You may also interact with locals and get to know how their lives are immersed in simplicity. Individual or group retreat is your choice, however, make sure to learn something each day.
Location: Lahaul and Spiti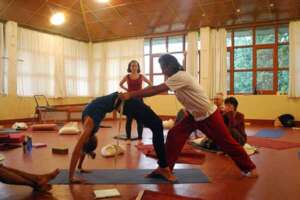 Iyengar Yoga Centre: Immerse In Sheer Tranquility
One of the best spiritual retreats in India, Iyengar Yoga Centre is a haven for yoga enthusiasts. What makes this place different from other yoga retreats is the special props that is designed by Dr. B.K.S. Iyengar who is the curator of this serene yoga center. The props like belts, wooden gadgets, and ropes allow practitioners to do certain asanas perfectly. In a month;s course, you will learn the nuances and the beauty of yoga while feeling immensely fit and fine.
Location: Near Ram Jhula Taxi Stand, Muni-ki-reti, P.O. Shivananda Nagar, Via Rishikesh, District Tehri Garhwal, Uttarakhand, India, 249192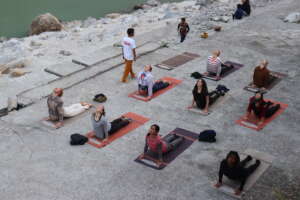 Yoganandham Yoga School: Calm All Your Senses
Ideally positioned in Rishikesh, Yoganandham Yoga School is famous for offering 'Yoga' as well as 'Ayurveda Retreat' and 'Meditation' programs. They aim at holistic understanding of yoga with the help of various practices and theories. This is an internationally renowned yoga retreat and is certified from Yoga Alliance USA as RYS 200. Their certified yoga teachers pay heed to each and every learner and make sure to spread all the knowledge they have.
Location: Near Balaknath Temple, Badrinath Road, Tapovan, Rishikesh, India – 249192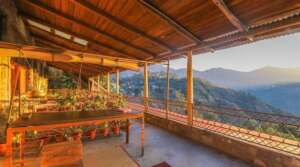 Satvik Sadan: Relaxation Amid Serene Surroundings
Marvellously nestled at 4,700 feet above the level of the sea, Satvik Sadan is among the most peaceful spiritual retreats in India. With lush green forests, scintillating rivers, and awe-inspiring forests, the place completes one's yoga experience. The highly experienced guides and hosts, Shuklacharya & Samrita will help you walk on the soulful path of yoga and spirituality. So, if you take yoga seriously, this surely would be your heaven.
Location: Shree Kailash Mukhi, Talla Dhungsil, Bhimtal, Nainital, Uttarakhand 263136