France - Rendez Vous en
France is the world's leading tourist destination. Not only is it situated at the heart of western Europe, bordering on all the larger countries in the region – Italy, Spain, Germany, Belgium, Switzerland and – across the straits of Dover – the UK; it also has Europe's second busiest airport – Paris Charles de Gaulle airport – and dozens more airports with international connections.
As a country, France offers a fabulous historic heritage and probably the most diversified natural environment of any country in Europe. Its tourist attractions illustrate the history of the human race, from the prehistoric sites of Cro Magnon to the steel and glass of the Futuroscope; they include fine vestiges of all European civilisations, from the prehistoric megaliths of Carnac and the Roman remains of Provence, through medieval castles and cathedrals, to the splendours of Versailles, the nineteenth century Eiffel Tower, or the resolute modernity of the TGV.
In addition, France has the necessary tourism infrastructure to cope with its status as leading tourist destination – more hotels and campsites than any other country of Europe, probably more gites or holiday cottages, the best and most modern rail network in Europe, and a fine system of motorways linking all main towns and cities.
Shopping in France
A cross-Europe study recently showed prices in French shops to be among the lowest in Europe; and perhaps, if you are buying a cross-section of everyday goods, they are. But tourists do not shop like locals, so the price advantage of France may not be so obvious to visitors. Besides, shops selling to tourists are notorious worldwide for high prices, and France is no exception.
With the exchange rate standing at around 1.19 USD to a Euro in Spring 2021, prices in France are attractive for many international visitors. Prices are also attractive for visitors from the UK, as Sterling has gained back about 5% since its lows before Brexit.
Shopping is a major part of the tourist experience in France, specially in Paris, and each year millions of tourists visit France and make a point of heading for the shops at some time during their stay. This page offers general and useful information for tourists intending to do some shopping while on holiday in France.
Normal shop opening times in France
The traditional French shopping week comprises six days, Monday to Saturday, with shops generally open from 9 a.m. to Midday, and 2 p.m. to 7 p.m. In towns and villages, it is still the rule that shops close at lunchtime.
However things are changing, and in urban shopping areas, most large shops such as department stores now operate what is called "la journée continue", and do not close at midday. Out-of-town supermarkets in France also tend to stay open at lunchtime, and depending on the town or district, other shops in large urban or suburban shopping centres also stay open. Many smaller shops have reduced their midday closing period, and now shut from, for example, 12.30 to 1.45 – in order to catch office workers who have free time during their midday break.
Out of town supermarkets and superstores – for instance Carrefour, Leclerc, Auchan, Casino, SuperU – (called "centre commerciaux") do not usually close for lunch. They generally open from 8.30 a.m. (or earlier) until 8 p.m. (or later); other large stores in out-of-town shopping centres often close a bit earlier in the evening, often at 7 p.m.
French fashion
hotelsThe top French fashion houses such as Yves St. Laurent, Chanel or Dior have their own boutiques in Paris (see Champs Elysées) : they also retail through major department stores in Paris and through their boutiques in other main cities and up market resorts like Courchevel or Saint Tropez.
For those looking for affordable French fashion stores, for young or old, France has plenty of choice through a range of brands available in main department stores, or through fashion boutique chains present in most city centres and many out-or-town shopping malls; these include Alain Manoukian, Jules, Mexx, Naf-naf, Kookaï, Pimkie, Brice, Petit Bateau, and plenty more.
Factory outlet malls in France
France has a couple of dozen factory outlet malls, mostly in northern France. Of particular interest to holidaymakers from the UK or Benelux are the Usine Côte d'Opale factory outlet centre at Coquelles next to the Channel tunnel exit, two factory outlet centres at Troyes, near the A26 motorway from Calais to the south of France (fashion, household appliances), or the La Seguiniere Factory Outlet at Cholet, in the Loire Valley close to Vendée. 
Where to shop in Paris
Central Paris
Rue de Rivoli (running from the Place de la Concorde, past the Louvre, to central Paris) and the central end of Rue du Faubourg Saint Honoré, one block to the north. This the area with the most chic shops in Paris.
The Champs Elysées: These days most of the shops on the Champs Elysées are flagship outlets for large international chains, from Hugo Boss to Disney to Zara, and the inevitable McDonalds – plus a few very chic shops, but beware of the prices. With the a few exceptions such as Lacoste, Sephora, Cartier and Louis Vuitton, French stores have been pushed out; the major French fashion stores and perfume houses however are not far away, many of them on Avenue Montaigne (Dior, Chanel etc.). Avenue Montaigne meets the Champs Elysées at the level of Franklin
D Roosevelt metro station.
On or near the Boulevard Haussmann, near the Opéra. This is the main boulevard for the big department stores, including Galeries Lafayette, Printemps, la Samaritaine, C & A.
Left Bank (Boulevard St. Michel): book stores, including Gilbert, the biggest in Paris.
Les Halles / le Marais and the lower end of the Rue de Rivoli; fashionable French and international chainstores, and trendy outlets. The "Forum des Halles", a large urban shopping mall, has outlets for virtually all the off-the-peg fashion retailers present in France, both French such as Kookaï, Camaïeu, Comtoir des Cotonniers, Naf-Naf, Esprit or Jules, and international including Benetton, Gap and Quiksilver.
Shopping in other French towns and cities.
Provincial towns and cities: town centres remain among the principal shopping areas, with the more select boutiques and shops, including up-market and mid-market national chains and franchises. Out-of-town shopping malls offer the big hypers, as well as a range of small shops, mostly mid-market popular chains, in all fields from clothing, footwear and music, to opticians and accessories. Many out of town hypermarkets are open until 9 p.m.
Calais, Cité Europe shopping centre: the Carrefour and Tesco outlets in this large shopping centre next to the Channel tunnel terminal have long opening hours, 8.30 a.m to 9 p.m. or 10 p.m.
Grasse, Alpes Maritimes, Provence. Capital of the French perfume industry. Buy top quality perfumes direct from the producers.
French Wines
Alsace
Situated on the lower eastern slopes of the Vosges mountains, in the Rhine valley between Strasbourg and Mulhouse, the Alsace vineyard is rather different from any other French wine growing area. Like the region of Alsace itself, the wine culture here is steeped in a Germanic tradition, producing mostly dry or fruity white wines, the most popular being Riesling, Sylvaner and the very fruity Gewurztraminer.
The rules of Appellation contrôlée – and more recently of Appellation Protégée (AOP) are not applied in the same way in Alsace as in the rest of France. In Alsace, wines are produced under a simple "Alsace" appellation, after which the next most important element to be indicated, and the most visible word on the label, is the grape variety or "cépage", Sylvaner, Riesling, Gewurztraminer, Edelzwicker, Pinot or a few others. Smaller areas do not have their own appellations, though with many Alsace wines, the name of the village or vineyard from which it comes will also be indicated.
Lorraine, also in north east France, produces mostly Vin de pays white wines, in the Meuse and the Moselle.
Bordeaux
Wine, and wine growing region. With Burgundy and Champagne, the Bordeaux region of Aquitaine is one of the three most famous French wine-producing regions. Historically, its fame is at least in part due to the fact that of these three big grape-growing areas, the Bordeaux vineyard is the only one with immediate access to the sea, an advantage that has enabled it to be France's major wine exporting region for many centuries.
In 1152, when queen Eleanor of Aquitaine married the English king Henry II, the Aquitaine region became economically integrated into the Anglo-Norman world, the Bordeaux region becoming the main supplier of wine for England. This historic wine exporting tradition helped Bordeaux to develop far stronger commercial links in the ensuing centuries, firmly establishing Bordeaux wines, often referred to generically in English as "clarets", on the international market.
The Bordeaux vineyard is centered round the port city of Bordeaux , along the estuary of the Gironde, and the rivers Garonne and Dordogne. It is a large vineyard, and the geo-specific appellation "Bordeaux" covers an area stretching some 100 km both north-south and east-west.
While the appellation contrôlée covers wines of medium quality from all over this region, many if not most of the top quality clarets grown in the overall area benefit from more specific and distinctive area appellations, such as Médoc , Graves or Saint Emilion, and even more local appellations such as Pauillac, Graves and Saint-Estèphe.
Unlike other French wine-growing areas, the Bordeaux area operates classifications of many of its top wines, notably those from the Médoc and Saint Emilion vineyards. The best estates in these areas have the right to sell wines designated as grand cru. Below the grand crus come other high quality wines designated as cru bourgeois.
Médoc
Among the Bordeaux vineyards, Médoc deserves a special mention. The Médoc, an area south of the Gironde estuary to the north west of Bordeaux, is the home of many of the most prestigious French wines. Among the famous appellations produced in this area are Saint Estèphe, Margaux, Saint Julien and Pauillac. It was in 1855 that the wine producers of the Medoc region classified their 61 best wines according to a league table of "grands crus", ranking from "Premier Cru" to "Cinquième Cru". These grands crus are generally reputed to be the greatest of all French wines, and naturally their prices generally reflect this status. Obviously, if you buy an estate bottled wine from a chateau with grand cru status, (and of course they are all estate bottled), you can be pretty sure of getting a top quality wine. But take care! Even a grand cru wine can go off if it is not matured and cared for in the best conditions.
Other areas of south-west France
Inland and southwards from the Bordeaux / Saint Emilion regions, there are a number of less well-known wine growing areas, many of them producing quite good wines at very reasonable prices. These include Bergerac, Cahors, Gaillac and Marcillac (all Appellation Contrôlée wines) , or Côtes du Tarn or Vin de Pays du Lot. While Marcillac is a small area, the vineyards of Cahors, Gaillac and Bergerac are quite extensive, and best known for their reds. The Cahors area produces some of the richest and darkest red wines in France, principally using the Malbec grape variety, sometimes referred to as "purple wine". However the Bergerac wine producing area is also known for its white wines, including some strong sweet aperitif wines such as Montbazillac.
Towards the Pyrenees, there are some surprisingly good white wines from the vineyards of Jurançon and Béarn, notably from the Gascony vineyards of Pacherenc-du-Vic-Bilh, reputed for its distinctive aperitif wines, and the vineyards of Madiran which produce a well-known red.
Bourgogne (Burgundy)
The vineyards of the Burgundy region cover a narrow strip of land on the eastern slopes of the hills running south-east from the Burgundian Capital, Dijon. The heart of the Burgundy wine growing region is the historic city of Beaune, where the autumn wine sale in the historic "Hospices" building is one of the high points of the wine year. Burgundy wines are classified on four levels, the lowest being the generic "Bourgogne" appellation. Selected areas of the Burgundy vineyard have their own classifications, such as Côtes de Beaune. Within these, there are smaller areas, villages and groups of villages, reputed to produce higher quality wine, such as Mersault, Pernand Vergelesse or Aloxe Corton . Finally, at the top of the pyramid, there are the "grands crus", such as Clos Vougeot, with its mere 51 hectares of vineyard. Finding ones way around Burgundy wines is sometimes a daunting task. The best Burgundy wines are the reds, the best of which can keep for a good 20 to 30 years. However, Burgundy also produces some top quality, though not too distinctive, whites. It is often said that generic burgundies "Bourgogne Rouge" or Bourgogne Passetoutgrains" white are overpriced and not particularly good value for money.
Beaujolais:
South of the Burgundy region, bordering the Rhone valley vineyards, a large area round Beaujeu produces a light red wine known as Beaujolais, paradoxically one of the most famous French wines. This is a wine that does not usually keep for very many years, and over the last fifty years it has been successfully marketed as a "vin primeur", or young wine, to be drunk after just a few weeks of maturing. But the success of Beaujolais Nouveau – launched on the market each year on the third Thursday of November – has more to do with clever marketing than with any enduring quality of the wine.
Champagne
The Champagne region, centered on the towns of Reims (Rheims) and Epernay, is the most northern of France's major vineyards. Unlike most of the best French wines, champagnes are blended in order to produce either non vintage champagnes (blended from different years) or vintage champagne, blended from wines of the same harvest. Consequently, since the quality of the champagne ultimately depends on a balance between the quality of the grapes and the skill of the blenders, Champagnes are also ranked and promoted by producer, not by any more finely delimited appellation . Possibly the most highly rated of blends is Krug; other well appreciated brands include Mumm, Bollinger and Heidsieck, not to mention the very well known brands of Moët & Chandon and Taittinger.
The distinct taste and purity of real champagne is certainly due to the chalky soil and the continental growing conditions that abound in the Champagne region. Several of the main French Champagne producers have set up branches and vineyards in California, but in spite of bringing over their best master-blenders, have never been able to achieve quite the same result.
Although many people imagine that Champagnes are all white, this is not quite true. Rosé champagnes also exist.
Note: Champagne is not a generic term for sparkling wine from France. There are plenty more good sparkling wines from France that are not sold as champagne. While it is true to say that the top champagnes are inimitable, it is far from true to imagine that you have to buy a real champagne if you want a good French sparkling wine. Some other excellent sparkling wines are produced in Burgundy (Crémant de Bourgogne), the Jura (Crémant du Jura) and the Loire valley (Vouvray and others) and other areas, using the same techniques (formerly called "méthode champenoise" – an expression now banned from use in other regions) – and a similar but not identical mix of grape varieties, notably Chardonnay. Only the most experienced connaisseurs can distinguish a middling Champagne from a good crémant or Vouvray… yet non-Champagne sparkling wines sell at a fraction of the price of equivalent quality wines from Champagne.
Finally, please, the correct way to open a champagne cork is to ease it very gently out of the bottle. It is not to imitate a victorious Formula One racing driver and spray the contents of the bottle all over one's guests.
Loire Valley wines
Although there are some excellent wines produced in the large Loire Valley area, there are few Loire wines, whites, rosés or pale reds, that rank among the greatest French wines. "Anjou Rosé" is a good everyday rosé, and "Muscadet" and "Gros Plant" from near Nantes, on the Loire estuary, are dry white wines that go excellently with seafood.. Another good appellation is "Pouilly Fumé" (not to be confused with "Pouilly Fuissé", a white Burgundy). Touraine, the area round Tours, is know for its light red wines, notably from the Gamay grape variety. The region also produces vin gris , "grey wine", which is actually a very pale rosé, being a white wine made from black grapes. While there are plenty of Loire wines that benefit from appellations protégées, others are sold under the vin de pays label.
Finally, the Loire valley is France's second largest producer of sparkling wines, after Champagne. Two of the more prestigious varieties are Vouvray and Saumur.
Cognac: / Charentes:
The Cognac / Charentes region inland from La Rochelle is a major wine area, though normal wine itself is not the main product of the region; the wine produced is mostly used for distilling into Cognac or other spirits, or else for the production of a delicious apéritif wine known as Pineau des Charentes. Some white wine is produced under the Vin de Pays label, and there are some vineyards that produce rosé or even red wines.
Jura.
Possibly the most underrated of French white wines, Jura wines come from the south of the Franche-Comté region, the west-facing slopes of the Jura hills that look out across the wide Saône valley to the slopes of Burgundy on the other side. The best and most distinctive of Jura whites are made from the "Savagnin" grape variety, which is found only in this region, and gives the wine a delicious sherry-like taste. However, most Jura wines are blended from different varieties, and as in Alsace, the grape variety tends to be indicated on the label. the Jura vineyard also produces dark rosé wines, sometimes called reds, as well as the famous "yellow wine", Vin Jaune, an expensive apéritif wine not unlike Amontillado sherry, made exclusively from the Savagnin grape variety. The most prestigious appellation for Vin Jaune is Château Chalon. This wine is made from late harvested grapes, and then left to mature in casks for at least six years.
Côtes du Rhone
Côtes du Rhône is one of those French wines that has become famous on account more as a result of the extent of the vineyard than of the quality of the wine. The Côtes du Rhône vineyard runs for over 200 kilometres down the Rhone valley from the south of Lyon to the Camargue. Within the region, there are a number of prestigious smaller areas such as Côte Rotie (in the northern part of the region), Hermitage or Chateauneuf du Pape and Gigondas (near Avignon).
The southern end of the Côtes du Rhône appellation area is actually in Provence.
The vast majority of Côtes du Rhône wine is sold under the generic appellations, "Côtes du Rhône" or "Côtes du Rhone Villages".
Côtes du Rhone wines are mediterranean wines, and generally speaking they are blended from the different classic grape varieties of the South of France, including most notably Viognier, Syrah, and Grenache. Price-wise, generic Côtes du Rhône wines are often at the cheaper end of the "appellation contrôlée" or AOP range.
Provence
Provence is a large wine-producing area, best-known for its rosé wines, the most famous of which are Côtes de Provence and Côteaux d'Aix. However, the Provence vineyard also produces red wines, including some very rich red wines from the Var, and "grey wine" from the Camargue area. The most famous of the area's white wines is Bandol, celebrated since the middle ages. Note that the Provence vineyard also includes the southern end of the Côtes du Rhone AOP area.
Languedoc
The Languedoc region, covering the Mediterranean coastal plain west of the Rhone, produces a lot of fairly ordinary red wine, much of it marketed as Vin de Pays. Languedoc is the largest French wine producing area in terms of volume. There are an increasing number of Appellations controlées in the area, the best-known of which is Corbières, and possibly the best average quality of which is Fitou. AOP wines account for some 10% of the region's production, but the proportion is increasing as Languedoc producers concentrate more on quality, rather than quantity, and strive to reposition their wines higher up the market. Thanks to the long hours of summer sun, grapes ripen well and quickly in this region, which means that Languedoc wines are rich and full bodied, and often have high alcohol content. The wines of Roussillon are very similar, this area being particularly noted for its fortified wines such as Banyuls.
Rather different from the rest are the sparkling wines produced in Limoux, near Carcassonne. "Blanquette de Limoux" is reputedly the oldest sparkling wine in France; and according to the story, it was a Benedictine monk, Dom Pérignon, who introduced the Limoux method of producing good sparkling wine, to the monks in Champagne who were looking for ways to improve the quality of their rather nondescript dry white wines. Regarding Dom Pérignon, the myth is almost certainly untrue; but it is well documented that Limoux was already producing sparkling wines in the 1540s, half a century before the technique took hold in Champagne.
How to travel around France
Travel to France and within France is easy, and relatively inexpensive….. France has an extensive network of regional airports, many of which are served by airlines from other parts of Europe, including many low-cost airlines; several French airports have direct flights to the USA or Canada, particularly to New York and Montreal. Within France, the main form of intercity public transport is the train , and the French TGV network of high-speed railway lines is one of the best in the world – and constantly expanding. By contrast, domestic air travel is relatively expensive except on some high-volume routes where the airlines compete with the trains.
France has a well developed network of motorways and main roads; most motorways are toll roads – but you can find ways of avoiding the tolls on the pages about driving in France.
In most of provincial France, driving can be a relatively relaxed experience, as traffic is light except around main towns and on the main regional roads. But there are tens of thousands of kilometres of minor roads that carry very little traffic: these routes are ideal for cyclists.
Slow travellers can enjoy France not only thanks to its bucolic backroads, but also by using a developing network of cycle ways such as the French section of the Danube-Atlantic cycleway, which links the Rhine to the Loire, or the cycleways along many of France's canals, such as the Canal du Midi. Completely off-road, France has an extensive network of hiking trails, the longest of them running from the English Channel to the Mediterranean.
PARIS in the SPRING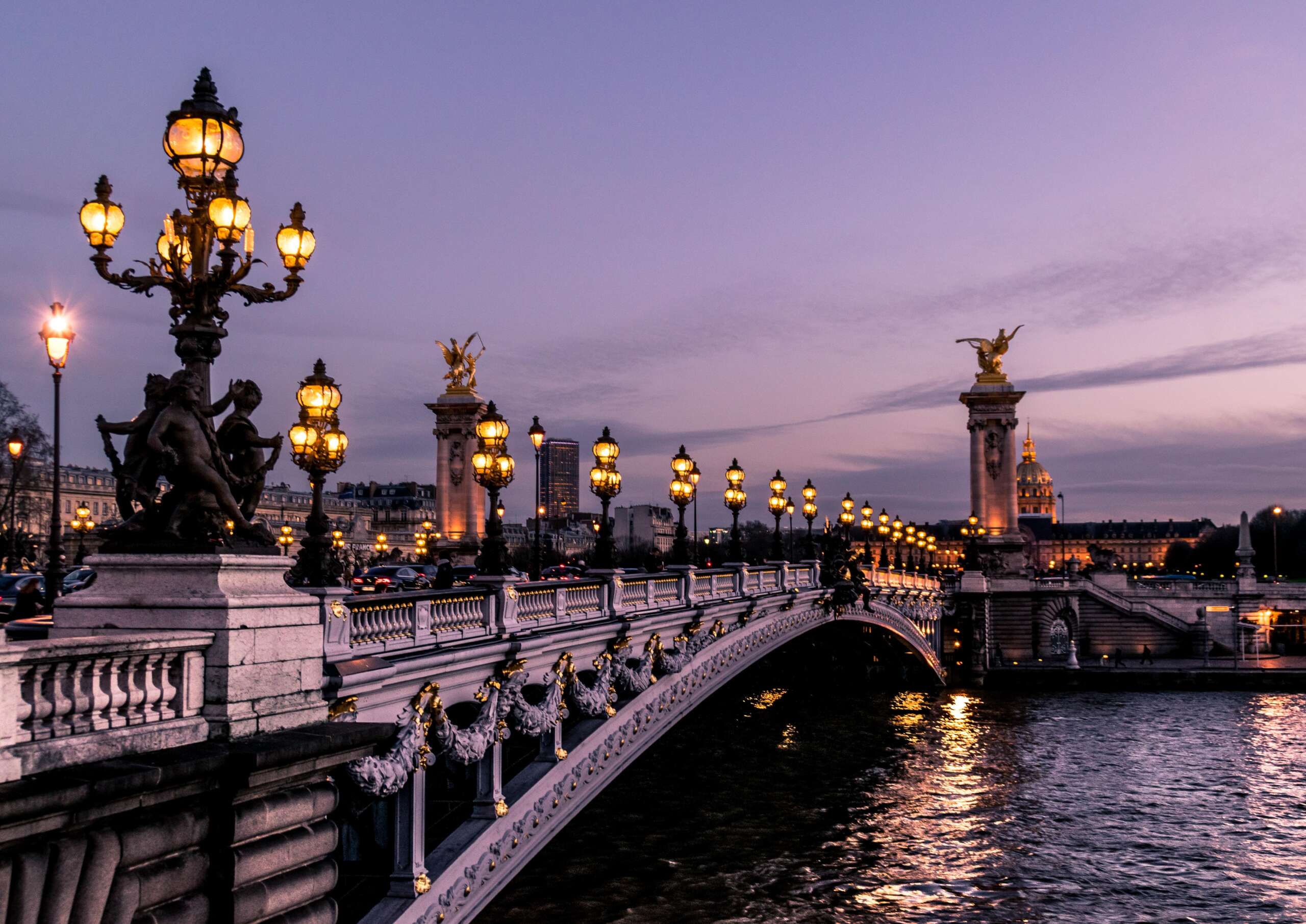 The great thing about Paris in the Spring is that Spring comes early to Paris! Around Easter time, while the buds are still struggling to open in much of rural France, even in areas far to the south of Paris, the green is bursting open all over Paris, in the parks, on the tree-lined boulevards, on balconies and terraces. So it's hardly surprising that "Paris in the spring" is something of a cliché. After the cold months of winter, the Easter holiday period is a great time to visit the French capital.
Good Friday – the Friday before Easter – is not a public holiday in France, so it's a day for business as usual in shops, museums and restaurants – though perhaps a bit less busy than on a normal Friday, since many Parisians take a long weekend and head off to the country for this first holiday weekend of the year. The official holiday is on Easter Monday which, in France as throughout Europe, is a public holiday.
Easter week is not necessarily a school holiday week; French spring school holidays do not necessarily include the Easter week or Easter weekend, it depends on the region and on when Easter falls. Easter Monday being a public holiday, many shops and public monuments such as Museums will be closed; but the Louvre is open on Easter Monday, as on Easter Sunday – though beware of the crowds on these days.
EASTER TRADITIONS IN FRANCE
As throughout Europe, Easter in France rhymes with Easter Eggs. But Easter Eggs in France are just one among many other options as far as Easter gifts are concerned. The essential common ingredient, however, is chocolate. While supermarkets of course sell industrially produced Easter eggs and other tokens, many French people will prefer to get their Easter Eggs, chocolate Easter Bunnies, Easter Hens, Easter Bells or "friture" from a local bakery, patisserie, or – for the top quality – a local "chocolatier". And generally speaking it's worth the little (or sometimes considerable) extra cost.
Local bakers, patissiers and chocolatiers pride themselves on making good-quality Easter chocolates, often individually decorated and presented with loving care. Eggs, bunnies and other chocolate animals come either "garnis" or "non-garnis" , meaning filled or unfilled. Filled versions usually contain small chocolates, or small sugary eggs – and often a mixture of the two.
"Friture", that other Easter tradition, are little chocolate fish – which historically have more to do with April Fool's Day than Easter (An April Fool joke in France is called "un poisson d'avril", an April fish); but the two events being almost simultaneous, the distinction has been forgotten.
Easter is traditionally a family celebration in France, and an excuse for a good family Sunday lunch, for which the traditional meat is roast lamb. For children, a traditional Easter pastime is hunting in the garden (or even in the apartment) for hidden chocolate eggs that according to tradition have been brought back overnight from Rome by the "Easter bells"; church bells in France traditionally remain silent from Maundy Thursday until Easter Sunday.