Ours. Yours. Bahrain
Bahrain, small Arab state situated in a bay on the southwestern coast of the Persian Gulf. It is an archipelago consisting of Bahrain Island and some 30 smaller islands. Its name is from the Arabic term al-baḥrayn, meaning "two seas."
Located in one of the world's chief oil-producing regions, Bahrain itself has only small stores of petroleum. Instead, its economy has long relied on processing crude oil from neighbouring countries, and more recently the financial, commercial services, and communications sectors have grown markedly, as has tourism. The country's chief city, port, and capital, Manama (Al-Manāmah), is located on the northeastern tip of Bahrain Island. A strikingly modern city, Manama is relaxed and cosmopolitan and is a favourite destination for visitors from neighbouring Saudi Arabia; on weekends, crowds of Saudis converge on the city to enjoy its restaurants and bars. Yet the people of Bahrain remain conservative in their lifeways. This sentiment is enshrined in the country's constitution, which affirms that "the family is the cornerstone of society, the strength of which lies in religion, ethics, and patriotism."
Bahrain is renowned for its verdant groves of date palms; since ancient times it has been an entrepôt for trade and a source of natural resources for the surrounding area. Bahrain Island is widely believed to be the site of the ancient kingdom of Dilmun, a commercial centre that traded with ancient Sumer. It has been settled and colonized by various groups, including the Khalīfah family (Āl Khalīfah), a native Arab dynasty that has ruled Bahrain since the late 18th century. Recognizing the islands' strategic importance, the Khalīfah have opened Bahrain's port facilities to the naval fleets of foreign countries, including the United States.
History of Bahrain
Bahrain has been inhabited since prehistoric times, and several thousand burial mounds in the northern part of the main island probably date from the Sumerian period of the 3rd millennium BCE. It was the seat of ancient Dilmun (Telmun), a prosperous trading centre linking Sumer with the Indus valley about 2000 BCE. The archipelago was mentioned by Persian, Greek, and Roman geographers and historians. It has been Arab and Muslim since the Muslim conquest of the 7th century CE, though it was ruled by the Portuguese from 1521 to 1602 and by the Persians from 1602 to 1783. Since 1783 it has been ruled by sheikhs of the Khalīfah family (Āl Khalīfah), which originated in the Al-Ḥasā province of Arabia.
The British protectorate
Several times during the 19th century, the British intervened to suppress war and piracy and to prevent the establishment of Egyptian, Persian, German, or Russian spheres of influence. The first Bahraini-British treaty was signed in 1820, although the country's British-protected status dates from 1861, with the completion of a treaty by which the sheikh agreed to refrain from "the prosecution of war, piracy, or slavery." Thus, Britain assumed responsibility for the defense of Bahrain and for the conduct of its relations with other major powers. In 1947 this protection briefly became the responsibility of the government of British India, which had both commercial and strategic interests in the Persian Gulf, but it reverted to Britain following India's independence. Until 1970 the government of Iran periodically advanced claims to sovereignty over Bahrain, but these were repudiated.
Britain's decision to withdraw all of its forces from the gulf in 1968 led Sheikh ʿIsa ibn Salman Al Khalifah to proclaim Bahrain's independence in August 1971. A treaty of friendship was signed with the United Kingdom, terminating Bahrain's status as a British protectorate, and Sheikh ʿIsa was designated the emir. Bahrain then became a member of the United Nations and the Arab League.
Domestic and foreign relations since independence
After independence, tensions mounted between the predominantly Shiʿi population and Sunni leadership—especially following the 1979 revolution in Iran. The political unrest was fueled by economic and social grievances related to the fall in oil prices and production, cutbacks in public spending, and continued discrimination against the majority Shiʿi population.
In 1981 Bahrain joined with five other Arab gulf states in forming the Gulf Cooperation Council (GCC), which has led to freer trading and closer economic and defense ties. During the Persian Gulf War (1990–91), Bahrain made its port and airfields available to the coalition forces that drove Iraqi forces out of Kuwait. Although more moderate than Saudi Arabia, Bahrain has generally followed that country's lead in most foreign policy decisions. The construction of the causeway linking Bahrain with Saudi Arabia has strengthened bilateral relations and regional defense and has helped both countries economically and politically.
Bahrain has maintained relatively good relations with the United States and has continued to house the U.S. Navy's Fifth Fleet. Iran's ties to the country's Shiʿi community, its territorial claims to the island, and its displeasure with the American presence in Bahrain have helped to strain relations between it and Bahrain. Resolution in 2001 of the dispute between Bahrain and Qatar over the Ḥawār Islands improved their already warming relations.
People of Bahrain
Ethnic groups
Roughly half of the population is Arab, and most inhabitants are native-born Bahrainis, but some are Palestinians, Omanis, or Saudis. Foreign-born inhabitants, constituting about half of the population, are mostly from Iran, India, Pakistan, Britain, and the United States. About three-fifths of the labour force is foreign-born.
Languages
Arabic is the official language of Bahrain. English is widely used, however, and is a compulsory second language at all schools. Persian is also common, although it is spoken mostly in the home. A number of other languages are spoken among expatriates in Bahrain, including Urdu, Hindi, and Tagalog.
Religion of Bahrain
The population is predominately Muslim and includes both the Sunni and the Shiʿi sects, with the latter in the majority. The ruling family and many of the wealthier and more influential Bahrainis are Sunni, and this difference has been an underlying cause of political and social tension. Christians constitute about half of the remaining one-fifth of the population, with the rest consisting of Jews, Hindus, and Bahāʾīs.
Cultural Life of Bahrain
Bahrain's island location has made it unique among Persian Gulf states. With greater access to ocean travel and broader exposure to outside influences, Bahrain traditionally has been home to a more ethnically and religiously diverse and cosmopolitan population than have other, more insular gulf states. This openness is reflected in Bahrain's social customs, which—although still conservative—are much more moderate and relaxed than those of its neighbours, particularly conservative Saudi Arabia. Thus, although Bahrain is still at heart an Arab-Islamic country, it has been more accepting of modernization and Westernization than many of its neighbours.
Daily life and social customs
The official holidays in Bahrain are generally the same as those observed in most Muslim countries. These include the two festivals, Eid al-Fitr and Eid al-Adha, the Prophet Muhammad's birthday, and, more recently, the celebration of ʿĀshūrā among the country's Shiʿis.
Western-style clothing is common in Bahrain, though some men still wear the traditional thawb (full-length tunic) and the kaffiyeh (white head cloth), bound in place by a black, camel-hair cord known as an ʿiqāl—the latter often more ornate, particularly among the political elite. The dress rules for women are relaxed compared to the more conservative, regional standards, although women in rural areas, and those in conservative communities in cities, still wear the veil (ḥijāb) and a traditional long cloak known as an ʿabāyah.
Coffee is an important part of social life. Coffee shops are popular meeting places, and coffee is offered as a sign of hospitality. It is often flavoured with cardamom and saffron. Bahraini cuisine typically features fish, shrimp, meat, rice, and dates. Machbous is a popular traditional dish of fish or meat served with rice. Other typical food includes muḥammar, sweet brown rice with sugar or dates, and shāwarmah, spit-roasted lamb, beef, or chicken.
The arts
Traditional handicraft industries receive state and popular support, and most villages practice specialized traditions; ʿĀlī, for example, is well known for its ceramics, while artists in Karbābād weave baskets from date-palm leaves. Throughout the country artisans engage in gold working, tinsmithing, and textile making and sell their wares at small shops or the Souk al-Arabaʿāʾ ("Wednesday Market") in Manama. Shipyards at Manama and Al-Muḥarraq are sites of dhow building, a highly respected art form. The museum in Manama contains local artifacts dating from antiquity, such as ivory figurines, pottery, copper articles, and gold rings, many of which reflect various cultural influences from outside Bahrain. There is also a small but flourishing avant-garde art community.
Music is an important part of Bahraini life. There is a rich folk music culture, and fidjeri, songs once sung by pearl divers, are still heard. Since 1991 the country has held an annual music festival. Although the country does not have a film industry, moviegoing is a popular activity, and some of Bahrain's cinema theatres screen English-language films. In the early 21st century the government undertook a program to encourage the development of theatre.
Bahrain - The Middle East's Best Kept Secret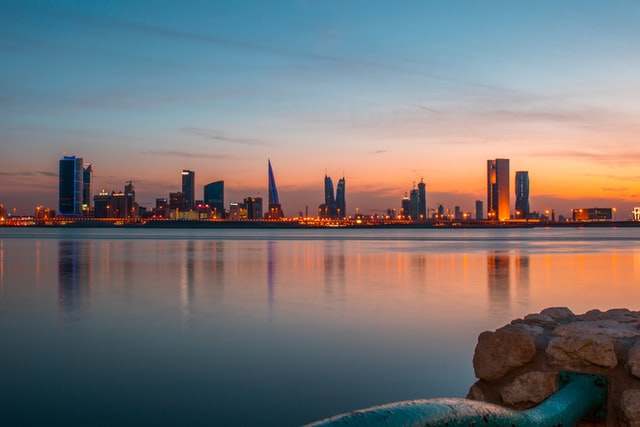 There are lots of reasons why Bahrain travel should be high on your list, most of which I'm probably yet to discover. But in the meantime, here's a video of my time there, to give you a real feel for this Middle Eastern country.
Middle East travel is worth this epic Bahraini breakfast spread alone
This little Middle Eastern country has a lot to give, including epic eats such as the terrific breakfast spreads you'll find at Saffron By Jena. These guys want to keep traditional Bahraini cuisine alive and do so by serving modern twists on authentic dishes in some of the oldest parts of Bahrain.